What happens to our stuff and where does it go? Where is AWAY? This is the question that drives and inspires everything we do at Recycling Alternative, because there is no AWAY!
So began Recycling Alternative's journey in 1989…
In the beginning, before the era of Blue Boxes, Louise and Robert set out in a hatchback to collect office paper from businesses who were ahead of the recycling curve. Quickly outgrowing the hatchback, they graduated to a van, and continued to build the company, one truck and one employee at a time, becoming one of Vancouver's leading recycling innovators.
Establishing our operating facility, the greenHUB, next to downtown Vancouver in 2014 was a major community and industry innovation. Led by Recycling Alternative, the greenHUB heralds a new era in sustainable waste management and demonstrates the critical roll that local materials recovery will play in our resilient cities of the future and the emerging green, circular economy.
Today, Recycling Alternative's leadership and commitment to sustainable waste management has led us to forge a legacy of innovations, both in the community and on the loading docks. Our waste related innovations range from our fleet of custom designed zero waste trucks, to on-site composting technology that manages high volumes of food waste, to research and development on closed-loop solutions for bio-plastics.
100% locally owned, Recycling Alternative's amazing team continues to manage an extremely complex matrix of services that help businesses of all sizes tackle their waste challenges.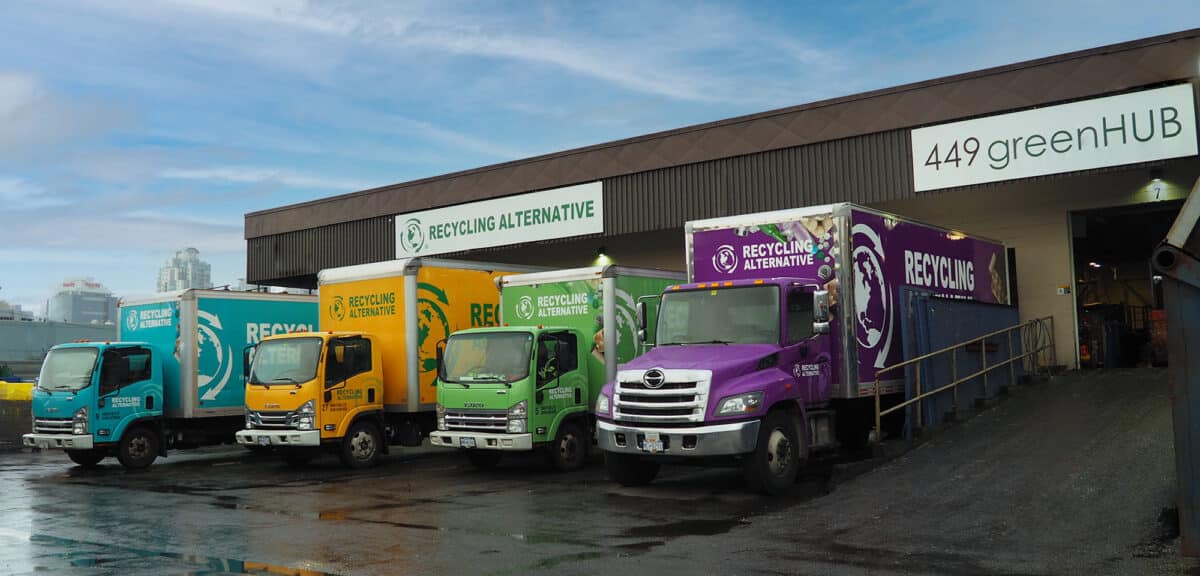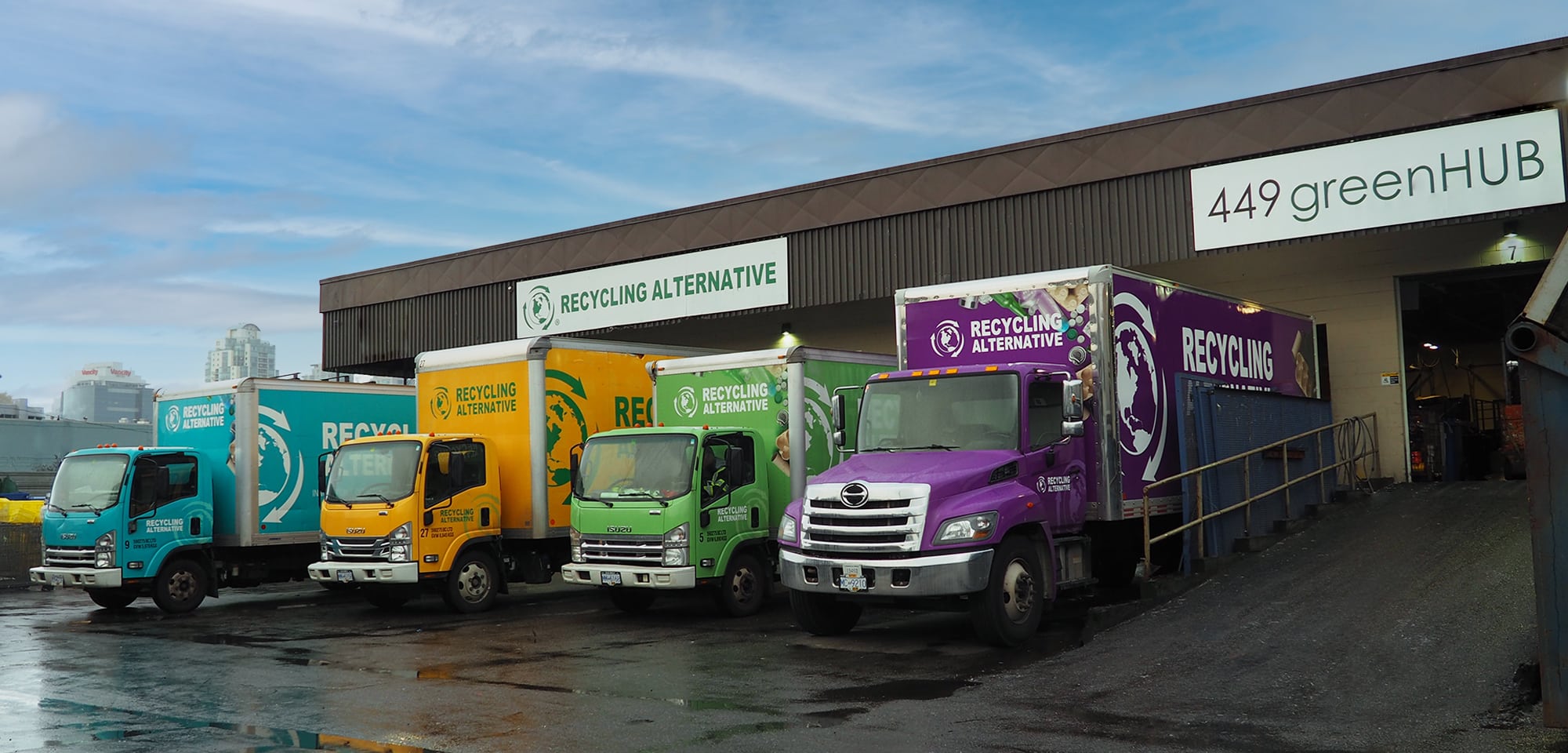 greenHUB
What began as a vision in 2011 to create an innovative, and collaborative recycling hub near the inner city, became a reality in 2014 when Recycling Alternative pioneered the greenHUB, Vancouver's first recycling co-location model, less than 1.7 kms from downtown Vancouver, in partnership with the Downtown Eastside non-profit bottle depot United We Can.
Anchoring the greenHUB in the False Creek Flats is part of a larger vision to create a green industrial zone close to the city's core, where businesses forging green innovation will locate in the district, to foster a matrix of collaborative, circular economy models such as: Share, Repair, Reuse, de-construction and re-purposing of building materials, hyper-local food waste recovery to support urban agriculture, post-consumer material recovery, centralized, short-distance distribution and industrial symbiosis opportunities. ­
As regions confront the environmental and climate challenges ahead, sustainable and resilient cities of the future will increasingly rely on these urban models to innovate and deliver green solutions related to waste management, transportation, food security, production and distribution.
Our values
Since the very beginning, Recycling Alternative has been driven to make a positive difference in our world. We look to our 4 guiding values, to inspire and inform the work we do everyday.

Innovation
We are driven by our passion, to create and forge innovative solutions, that tackle the waste challenges of today and tomorrow.

Integrity
We stand behind best practices recovery, and believe our clients deserve to know what happens to their materials.

Community
We are stronger when we work together to drive environmental and social impact.

Environment
We believe in helping not harming our planet, through action not talk, showcasing how we can all make a difference.
Meet the team
Office staff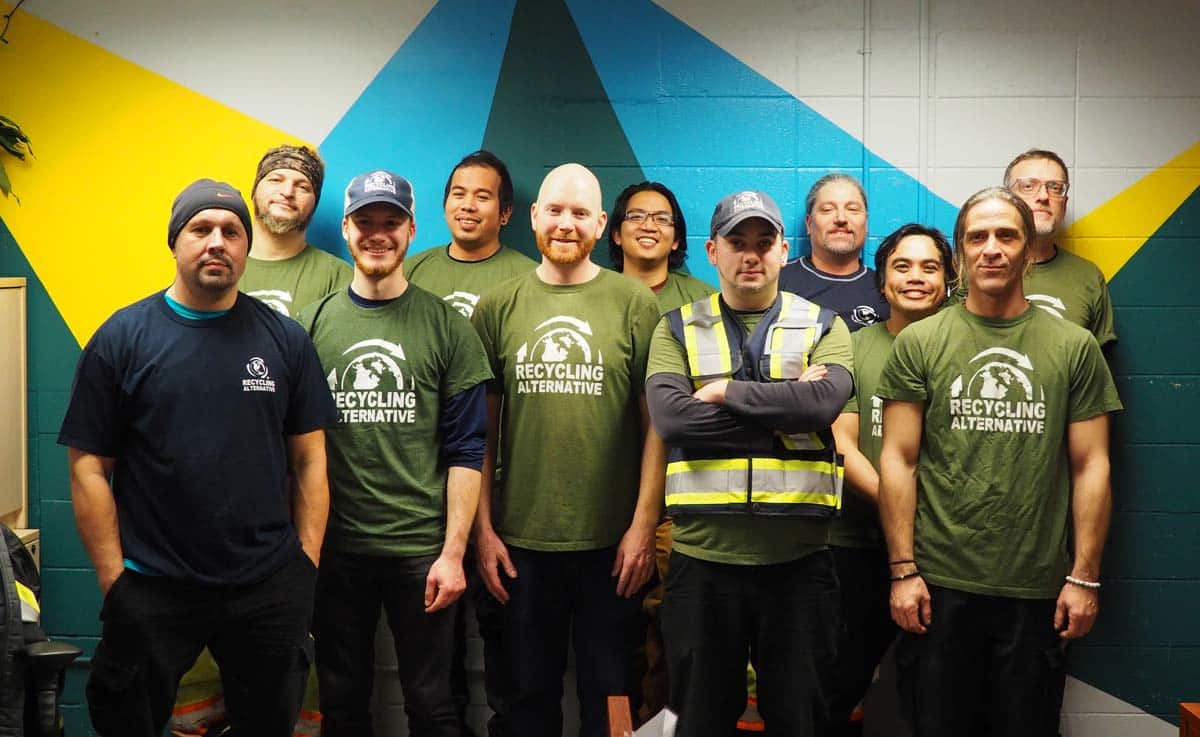 Drivers
Our drivers are the foundation of everything Recycling Alternative does out in the field. They are our front-line champions, directly serving our customers with their strength and smiles, collecting and stewarding our clients' recycling back to the greenHUB for the next stage in the journey.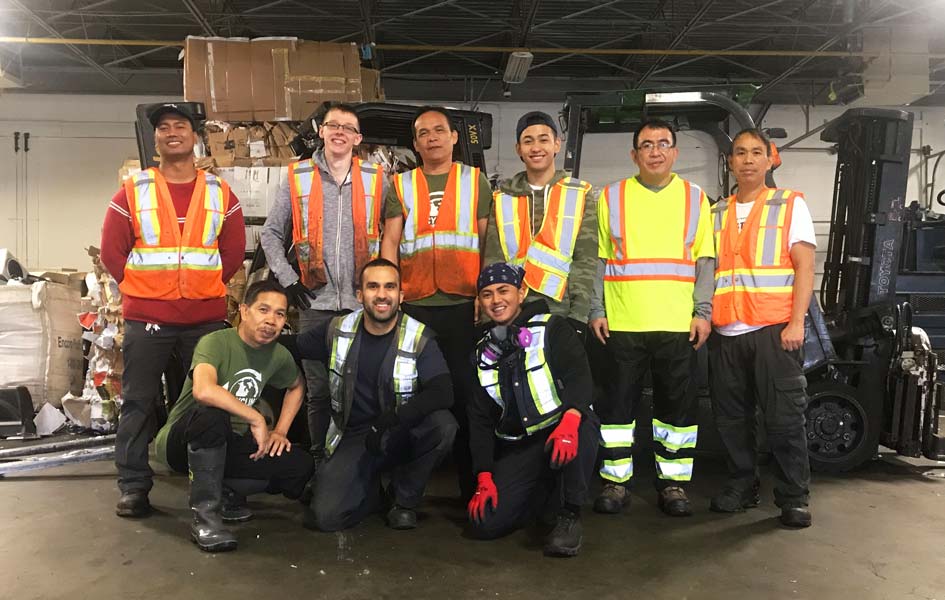 Warehouse
We could not do what we do, without the hard work and dedication of Recycling Alternative's amazing warehouse team. Once material arrives back at the greenHUB, our warehouse team steps into action, working tirelessly to manage and process our clients' recycling, ensuring it is primed and ready for the next step in the recovery process.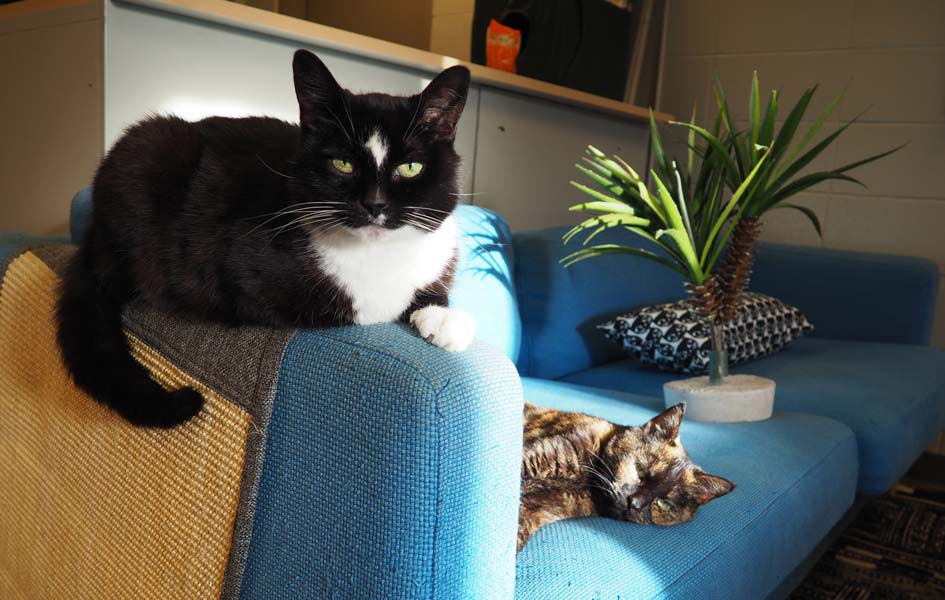 Cats
Sammy and ChiChi have been feline fixtures at Recycling Alternative for many years! Coming to us from the SPCA as very young cats, they dove paws-first into their sustainable pest control duties, successfully serving many seasons in this department!
Now as they approach their retirement years, the dynamic duo's work assignments have taken a more artistic direction, starring in The Cultch program advertisements and featuring on Recycling Alternative fridge magnets. They also give back to their community by spending most of their days greeting Drop-Off Shredding customers and providing their human colleagues with top-notch feline therapy services.